How To Make A Website That Sells
Understanding how to make a website that sells is absolutely crucial to your business success and keeping your internet marketing costs in check.
Many clients come to us because they've spent a lot of money with a web designer who has promised the Earth, delivered nothing and then gone out of business.
Others have experienced designers who again promise everything, get you on the hook and once you're onboard start charging you extra for everything. It's somewhere down this road that you start to wonder whether you are throwing good money after bad.
We really hope that you're not feeling like this but all too often it is the case. Whatever situation you are in, our role is to help you turn what you already have into something that actually does what you want it to do.
We understand the tools, techniques and processes required to make a website that sells so our objective is to help you make your website turn visitors into customers in a structured manner.
Using Analytics to understand what's happening
Developing a layout that attracts and retains the visitors attention
Writing engaging content that resonates with your site visitors
Deriving your USP (unique selling point)
Effectively using funnels, calls to action and verification
There's a lot more involvved in learning how to make a website that sells but we hope that gives you some confidence that we know what we're talking about.
Please call us for a no obligation chat about your website. Our number is 01200 445255.
Starting From Scratch?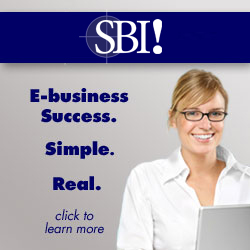 Developing a website that looks good isn't difficult and there are plenty of web designers out there who will create a basic e-commerce site for you for about £950 - £1000. If that's what you want by all means give us a call and we'll be only too happy to give you some recommendations. You'll get a great site and no one will visit it. It's like being offered a retail store in the desert, location is everything and the same applies to your website.
We stated on our homepage that we don't believe in re-inventing the wheel if there's an off-the-shelf package out there that can deliver the functionality that you need.
A website tuned to convert visitors to sales
A blog to post updates, tweet and keep your Facebook page fresh
A hosting package that you allows you to update your site without paying additional fees.
A complete set of guides to help you build your e-business.
The platform we use is called Site Build It! – the same platform that powers this site.
If you have the drive and aptitude to learn how to make a website that sells then this is the product we recommend and of course, because we know our way round the functionality so well, we're here to offer a coaching and guidance service to hold your hand or accelerate your learning.
Whichever course of action you chose, remember that a website is just like a physical shop. Every so often you need to change the window dressing and it will need a budgeted spend for maintenance and development. Don't let anyone sell you a static website (one that you can't update without the web designer's intervention), these are a thing of the past.
See Also:-
Effective Internet Marketing UK
Social Media Training
An Affordable SEO Package
Email Marketing And Design

Return to Business Networking from How To Make A Website That Sells